I am becoming quite fond of staging "photo shoots". My husband is becoming increasingly less fond of this pastime as he is always in charge of getting Lindsay or the dog to stay and look at the camera. (Is it bad that my 1-year-old responds to the same commands as the dog?) This wasn't exactly how I envisioned the Christmas pictures but they didn't turn out that bad and I didn't use any editing software for the photos. Have I mentioned how badly I want Microsoft Photoshop!!!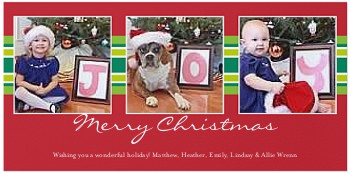 Christmas Stripe Ribbons Christmas
Here is another of my staged Christmas photo shoots. I did use
Picnik
for editing. How bad is Lindsay going to hate me when she gets older and sees all these naked pictures?!